About
Welcome to Masks of the World - a world of cultural wonders and adventure! We're a team of passionate collectors, who travel the globe in search of the most beautiful and unique cultural masks from around the world.
We believe that every mask tells a story - a story of the culture, traditions, and beliefs that inspired its creation. That's why we're committed to preserving these precious artifacts and sharing their beauty and significance with the world. Oftentimes we acquire masks directly from local artisans and communities - when doing so, we ensure that every mask is ethically sourced and fairly traded. Whether you're a collector, an art enthusiast, or simply someone who appreciates the beauty of cultural diversity, we invite you to join us on this incredible journey. With our ever-expanding collection of masks, there's always something new and exciting to discover. From the bold and striking designs of African Dan masks to the intricate carvings of Indonesian Barong masks, each mask is a work of art that tells a unique and fascinating story. So why not step into the world of cultural masks and experience the adventure for yourself? We guarantee that you won't be disappointed. Our masks are not just beautiful artifacts, they are gateways to new worlds of culture and history, waiting to be explored.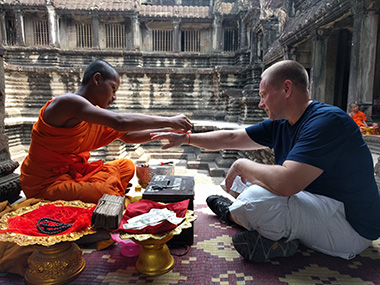 Troy Yohn – Curator
I think I've always had an adventurous spirit. I've always enjoyed exploring the unknown and pushing myself to new limits, but this time was different. It was my first trip outside of the United States, and as soon as I landed in Kathmandu, I knew I was in for an adventure. Not only were there vibrant colors and the sweet smell of incense, but there was also an actual elephant walking down the street untethered!
After spending a few days in Kathmandu, where I discovered cultural masks and other fascinating objects, I set out on a trek to Everest Base Camp. The journey was far from easy, but the stunning views of snow-capped peaks, deep valleys, and traditional Nepalese villages made it all worth it. I was blown away by the warmth and hospitality of the Nepalese people, who welcomed me with open arms and offered me tea and food along the way. This was when my passion for adventure, traveling, masks, and seeing the world truly ignited.
My adventures have taken me to some of the most breathtaking and remote corners of the globe. I've trekked through dense rainforests, sand surfed in Peru, scaled mountain peaks to find unexcavated ruins, and mountain biked down the "Death Road" in Bolivia. But for me, the true beauty of adventure lies not just in the adrenaline rush, but in the sense of connection and unity that comes from experiencing something truly awe-inspiring.
When I'm not out on some wild escapade, I'm usually planning my next one. I love seeing the beauty of the world around me. I'm also an avid writer, often using my adventures as inspiration for my books and articles. At the end of the day, I believe that life is all about creating memories and living in the moment. That's something I strive for every day.
---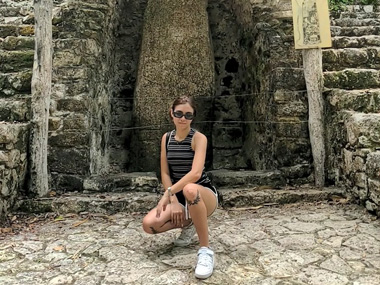 Paula Diaz - Creative Director
Hello there, I'm Paula - a creative director with a passion for adventure. I believe that the best ideas come from stepping outside your comfort zone and taking risks, which is why I'm always up for a challenge. Whether it's skydiving, bungee jumping, or exploring a new city on my own, I'm never one to back down from an adventure.
My love for exploring new places and pushing boundaries spills over into my work, where I'm known for my bold ideas and innovative thinking. I've spearheaded campaigns that have taken me around the world, from shooting commercials on the beaches of Bali to brainstorming new concepts on a rooftop in Tokyo. I believe that the best way to tap into your creativity is to open yourself up to new experiences and perspectives, and that's something I strive for every day.
When I'm not busy dreaming up the next big thing, I'm usually planning my next adventure. I also have a passion for photography, and I love capturing the beauty of the world around me. Life is too short to sit around and wait for things to happen - I believe in making things happen, and that's exactly what I bring to the table as a creative director.